Overview
Achilles tendinitis is an inflammation (swelling) of the tendon, which usually occurs as a result of overuse injury. Anyone can have Achilles tendonitis. Athletics involving frequent jumping is the classic cause, but certainly not the only one. Any activity requiring a constant pushing off the foot, such as running or dancing, may result in swelling of the tendon.
Causes
Achilles tendonitis is an overuse injury. Too much too soon is the common cause of overuse injuries, however other factors can contribute to developing the condition. An increase in activity, either distance, speed or a sudden change to running up hills. As a rule of thumb distance runners should increase their mileage by no more than 10% per week. A change of footwear or training surface for example suddenly running on soft sand can cause the heel to drop lower than normal making the tendon stretch further than it is used to. Weak calf muscles can tighten or go into partial spasm which again increases the strain on the achilles tendon by shortening the muscle. Running up hills - the achilles tendon has to stretch more than normal on every stride. This is fine for a while but will mean the tendon will fatigue sooner than normal. Overpronation or feet which roll in when running can place an increased strain on the achilles tendon. As the foot rolls in (flattens) the lower leg also rotates inwards which places twisting stresses on the tendon. Wearing high heels constantly shortens the tendon and calf muscles. When exercising in flat running shoes, the tendon is stretched beyond its normal range which places an abnormal strain on the tendon.
Symptoms
Signs and symptoms of Achilles Tendinitis generally include pain and stiffness along your achilles tendon, especially in the morning. Pain in the back of your heel that gets worse with activity. Severe pain the day after exercising. Swelling that gets worse with activity. If you feel a pop in the back of your heel or bottom of you calf, you may have ruptured or torn you achilles tendon.
Diagnosis
When diagnosing Achilles tendinitis, a doctor will ask the patient a few questions about their symptoms and then perform a physical examination. To perform a physical exam on the Achilles tendon, the doctor will lightly touch around the back of the ankle and tendon to locate the source of the pain or inflammation. They will also test the foot and ankle to see if their range of motion and flexibility has been impaired. The doctor might also order an imaging test to be done on the tendon. This will aid in the elimination of other possible causes of pain and swelling, and may help the doctor assess the level of damage (if any) that has been done to the tendon. Types of imaging tests that could be used for diagnosing Achilles tendinitis are MRI (Magnetic resonance imaging), X-ray, Ultrasound.
Nonsurgical Treatment
NSAIDS like ibuprofen are often prescribed to help manage the pain and inflammation. Steroids are often recommended when patients do not respond to NSAID treatment. They are often most effective when injected directly into the inflamed and swollen area. Physiotherapy is a great way to stretch and strengthen the Achilles tendon. A good physical therapist will also teach the patient techniques which give better foot support during exercise (taping, wrapping, etc?). Orthotics, assistive devices and insoles can be used to cushion and cradle the arch of the foot during the healing process. Shock Wave Therapy. This is the newest form of treatment and uses concentrated sound waves to stimulate healing in the affected area. This form of treatment is reserved for heel pain that is unresponsive to other forms of treatment.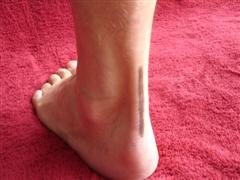 Surgical Treatment
Chronic Achilles tendon tears can be more complicated to repair. A tendon that has torn and retracted (pulled back) into the leg will scar in the shortened position over time. Restoring normal tendon length is usually not an issue when surgery is performed within a few weeks of the injury. However, when there has been a delay of months or longer, the treatment can be more complicated. Several procedures can be used to add length to a chronic Achilles tear. A turndown procedure uses tissue folded down from the top of the calf to add length to the Achilles tendon. Tendon transfers from other tendons of the ankle can also be performed to help restore function of the Achilles. The results of surgery in a chronic situation are seldom as good as an acute repair. However, in some patients, these procedures can help restore function of a chronically damaged Achilles.
Prevention
Suggestions to reduce your risk of Achilles tendonitis include, incorporate stretching into your warm-up and cool-down routines, maintain an adequate level of fitness for your sport, avoid dramatic increases in sports training, if you experience pain in your Achilles tendon, rest the area. Trying to ?work through? the pain will only make your injury worse, wear good quality supportive shoes appropriate to your sport. If there is foot deformity or flattening, obtain orthoses, avoid wearing high heels on a regular basis. Maintaining your foot in a ?tiptoe? position shortens your calf muscles and reduces the flexibility of your Achilles tendon. An inflexible Achilles tendon is more susceptible to injury, maintain a normal healthy weight.