Overview
Achilles tendonitis is an inflammation of the Achilles tendon, which attaches the calf muscles (gastrocnemius and soleus) to the heel bone (calcaneus). Pain can be felt on the back of the heel at the attachment of the tendon, along the length of the tendon, or at the base of the calf where the tendon attaches to the muscle. Swelling is not always present with this injury, but it may occur in severe cases.
Causes
Over-pronation, injury and overstresses of the tendon are some of the most common causes. Risk factors include tight heel cords, poor foot alignment, and recent changes in activities or shoes. During a normal gait cycle, the upper and lower leg rotate in unison (i.e. internally during pronation and externally during supination). However, when a person over-pronates, the lower leg is locked into the foot and therefore continues to rotate internally past the end of the contact phase while the femur begins to rotate externally at the beginning of midstance. The Gastrocnemius muscle is attached to the upper leg and rotates externally while the Soleus muscle is attached to the lower leg and rotates internally during pronation. The resulting counter rotation of the upper and lower leg causes a shearing force to occur in the Achilles tendon. This counter rotation twists the tendon at its weakest area, namely the Achilles tendon itself, and causes the inflammation. Since the tendon is avascular, once inflammation sets in, it tends to be chronic.
Symptoms
The Achilles tendon is a strong muscle and is not usually damaged by one specific injury. Tendinitis develops from repetitive stress, sudden increase or intensity of exercise activity, tight calf muscles, or a bone spur that rubs against the tendon. Common signs and symptoms of Achilles Tendinitis include, gradual onset of pain at the back of the ankle which may develop in several days up to several months to become bothersome. Heel pain during physical activities which may diminish after warming up in early stages, or become a constant problem if the problem becomes chronic. Stiffness at the back of the ankle in the morning. During inactivity, pain eases. Swelling or thickening of the Achilles tendon. Painful sensation if the Achilles tendon is palpated. If a pop is heard suddenly, then there is an increased chance that the Achilles tendon has been torn and immediate medical attention is needed.
Diagnosis
In diagnosing Achilles tendonitis or tendonosis, the surgeon will examine the patient?s foot and ankle and evaluate the range of motion and condition of the tendon. The extent of the condition can be further assessed with x-rays or other imaging modalities.
Nonsurgical Treatment
NSAIDs help decrease swelling and pain or fever. This medicine is available with or without a doctor's order. NSAIDs can cause stomach bleeding or kidney problems in certain people. If you take blood thinner medicine, always ask your healthcare provider if NSAIDs are safe for you. Always read the medicine label and follow directions. Steroid injections. Steroids decrease pain and swelling. After you get this shot, you may feel like your Achilles tendon is healed. Do not return to your regular exercise until your caregiver says it is okay. You could make the tendinitis worse, or even tear the tendon. Surgery. If your tendinitis does not heal with other treatments, you may need surgery. Surgery may be done to repair a tear in the tendon, or to remove parts of the tendon. The most important way to manage Achilles tendinitis is to rest. Rest decreases swelling and keeps your tendinitis from getting worse. You may feel pain when you begin to run or exercise. The pain usually goes away as your muscles warm up, but it may come back. Your caregiver may tell you to stop your usual training or exercise activities. He may give you other exercises to do until your Achilles tendon heals. Ice decreases swelling and pain. Put ice in a plastic bag. Cover it with a towel. Put this on your Achilles tendon for 15 to 20 minutes, 3 to 4 times each day. Do this for 2 to 3 days or until the pain goes away. After 2 or 3 days, you may use heat to decrease pain and stiffness. Use a hot water bottle, heating pad, whirlpool, or warm compress. To make a compress, soak a clean washcloth in warm water. Wring out the extra water and put it on your Achilles tendon 15 to 20 minutes, 3 to 4 times each day. Stretching and making the muscles stronger may help decrease stress on your Achilles tendon. Physical therapists can teach you exercises and treatments to help your tendinitis heal faster. You may need to wear inserts in your shoes. You may need to wrap tape around your heel and back of the leg. You may need to wear a cast, brace, or support boot.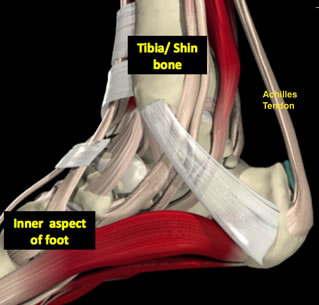 Surgical Treatment
Most people will improve with simple measures or physiotherapy. A small number continue to have major problems which interfere with their lifestyle. In this situation an operation may be considered. If an operation is being considered, the surgeon will interview you and examine you again and may want you to have further treatment before making a decision about an operation. Before undergoing Achilles tendonitis surgery, London based patients, and those who can travel, will be advised to undergo a scan, which will reveal whether there is a problem in the tendon which can be corrected by surgery. Patients will also have the opportunity to ask any questions and raise any concerns that they may have, so that they can proceed with the treatment with peace of mind.
Prevention
Although Achilles tendinitis cannot be completely prevented, the risk of developing it can be lowered. Being aware of the possible causes does help, but the risk can be greatly reduced by taking the following precautions. Getting a variety of exercise - alternating between high-impact exercises (e.g. running) and low-impact exercise (e.g. swimming) can help, as it means there are days when the Achilles tendon is under less tension. Limit certain exercises - doing too much hill running, for example, can put excessive strain on the Achilles tendon. Wearing the correct shoes and replacing them when worn - making sure they support the arch and protect the heel will create less tension in the tendon. Using arch supports inside the shoe, if the shoe is in good condition but doesn't provide the required arch support this is a cheaper (and possibly more effective) alternative to replacing the shoe completely. Stretching, doing this before and after exercising helps to keep the Achilles tendon flexible, which means less chance of tendinitis developing. There is no harm in stretching every day (even on days of rest), as this will only further improve flexibility. Gradually increasing the intensity of a workout - Achilles tendinitis can occur when the tendon is suddenly put under too much strain, warming up and increasing the level of activity gradually gives your muscles time to loosen up and puts less pressure on the tendon.